After the introductory webinar of the European Organisation of Supreme Audit Institutions Project Group on Auditing the Response to the COVID-19 Global Pandemic, this week is dedicated to online round-table meetings where participating Supreme Audit Institutions (SAIs) have the opportunity to present current situation regarding COVID-19 in their countries, the adopted respectively foreseen measures at the national level and possible planned audit activities. SAI Slovenia together with SAI Portugal, SAI Czech Republic, SAI Estonia and SAI Republic of Serbia joined the online round-table discussion on Wednesday, 17 June 2020, led by UK NAO and SAI Finland.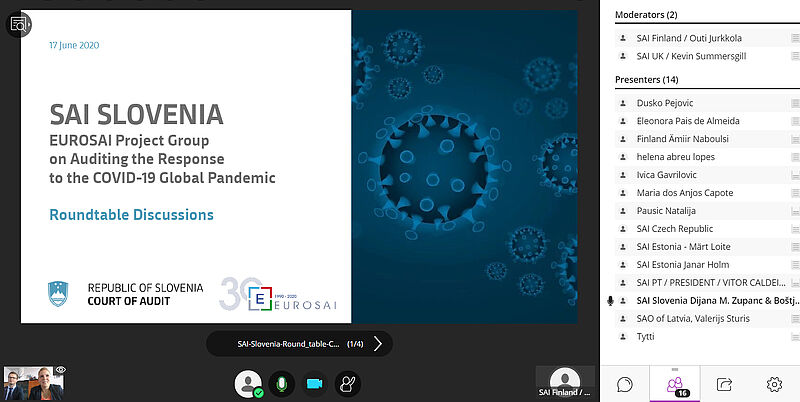 Our representatives made a short presentation of internal organisation at the Court of Audit during pandemic, and of the latest information, measures and plans necessary to overcome the consequences of the pandemic in Slovenia, as well as of the decision on the performance audit of purchasing protective and medical equipment due to coronavirus epidemic outbreak which is currently being implemented. Similar auditing activities are being carried out also by other SAIs, such as SAI Czech Republic and UK NAO.
Participants of this discussion also exchanged their ideas and suggestions for further work of the project group and for cooperation among the SAIs. Key findings of these round-table meetings shall serve as a basis for the next online session where acquired new knowledge and experience of all participating countries in the project group will be presented.